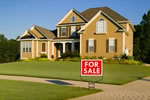 Is Now A Good Time To Sell?
Information here, may be pertinent to both Sellers as well as "FSBOs" and is current at the time of this writing. It is deemed reliable but not guaranteed. I try to update it often. To get the most current information available, please call me directly at 919.320.3865.
You Bet It Is!
But What's My House Worth?
Though you might think the first step in selling your home is to determine what the "market value" is, the truth is, the first step is to determine what's WRONG with your home.
You need to take a walk around the inside and outside of your home and look at it objectively and unattached the way that a total stranger would view your home. Doing this will open your eyes to things you may have been overlooking, putting off or just plain didn't care to fix, modify or upgrade because it all worked just fine for you. Well, what works for you, will probably not work for a prospective Buyer. So make a list of the things that need to be addressed BEFORE you put your house on the market.
Things like a fresh coat of paint on the inside or some flowers and landscaping done on the outside will go along way. Remember that a prospective Buyer will be turned off or hooked within the first 15 to 30 seconds of the first look.
Even if you think everything is fine, at least have a friend take an objective look and have him/her tell you what they honestly think.
The next step, and this is important, contact a licensed Home Inspection company. The reason is that a prospective Buyer will be doing it as well. And it's better for you to know what is mechanically wrong with your home as identified by a licensed professional before a prospective Buyer does. Here's the reasons.:
First the Inspector will look at all the electrical, heating and air, roof and structure of the home. They may, at your request, test for Radon or Mold. If YOUR Home Inspector finds a problem with any of these things, you can take care of the issues in your own time frame. However, if you wait until a prospective Buyer's Home Inspector provides them with a report showing any problems, the Buyer will either walk or if you are lucky enough to have them place an offer, it will undoubtedly come with a contingency that you make the repairs shown on their Inspector's report and do so in a limited time frame.
Worse yet, if you accept the offer with the contingencies, and are unable to complete the repair request the contingency was based on, within the time frame that you accepted, you could be liable for financial damages. Or at the very least, lose the sale and the time. You'll have to refund the Buyer's deposit and disclose the un-repaired items to any future prospective Buyer. Whereas, a repaired issue is a non-issue and does not have to be disclosed. Now the value of your house might still be different then what you think your house is worth. I know it's sad to say but, It may even be worth less than what you paid for it. The reason is the difference between "Perceived Value" and "Market Value".
Perceived Value is the value that you emotionally feel the home is worth based on what you've put into it in terms of money and sweat equity. Market Value is the price that one might pay to buy your home in it's current condition.
A third valuation is determined by an Appraiser. The value that he places on the home is determined by much more scientific methods and is used mostly for lenders to determine how much money they are willing to loan you for the home. It's known as the "Appraised Value". You can hire an Appraiser yourself to get an actual Appraisal, so that you might know up front how much a bank might loan a prospective buyer, but it's not always necessary and other factors will be taken into consideration by the Lender as well as just the Appraised Value. The caveat is that even if the Appraiser determines your home is worth a lot of money, it still has to be "Marketable". This means that, generally speaking, a home appraised for $250,000.00 in a neighborhood that is made up largely of homes that have been selling for $150,000.00, will probably not sell very quickly regardless of what it's appraised value is. An appraiser would also, general take this into consideration as part of his appaisal assessment. The more common method is to determine your home's Market Value.
The good news is, that the market is changing for the better and prices are going up. To determine what your Market Value is, a Realtor® performs what is known as a "Comparative Market Analysis" or CMA. So what should you do next?……
Information on this Web Site is deemed reliable but not guaranteed!