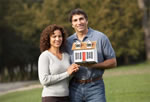 Is Now A Good Time To Buy?
Information here is current at the time of this writing and is deemed reliable but not guaranteed. I try to update it often. To get the most current information available, please call me directly at 919.320.3865.
You Bet It Is!
Get Your Finances Together!
The first step in buying a home is to first find out how much money a lender will allow you to borrow. Check out my Mortgage Calculator on this page to give you a basic idea.
No matter if you believe you have excellent credit or if you might have some questionable items on your credit report. A good mortgage broker can help get you the best loan as well as help you take care of any questionable items that may appear on your credit report BEFORE you start looking for your dream home.
Even if you think you know what you can afford, before you can make an offer on that dream home, you will need to be pre-qualified by a lender and be able to provide a Lender Pre-Qualification Letter at the very least. The approval process can take several weeks to even months to complete and if you look for and find that dream home before seeking a lender, by the time you receive the letter, that dream home will probably already be sold. Or at the very least, you might find you don't qualify for the amount needed to buy that home. So it only makes sense to talk to a lender as one of your first steps in buying a home.
We can help you find a reputable, licensed lender and provide you with a list of names you can call. Don't forget to educate yourself first.
Let's Get Educated!
The best way to find a good Lender is to educate yourself about the Mortgage business. There are numerous types of loans and hundreds, or maybe even thousands of Mortgage Brokers and Lenders.
Each loan type have specific uses and requirements. Where you might not qualify for one type, you might just qualify for different one. A good Mortgage Broker or Lender can help determine what type is best for the property you want to buy.
If you've already gone through the Mortgage process and are pre-qualified, you're already on the right track. So let's GET STARTED!
Information on this Web Site is deemed reliable but not guaranteed!